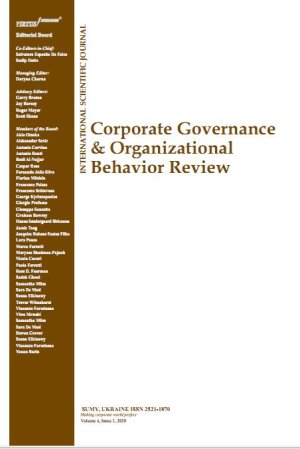 Governance structure and cost of debt
Abdelkader Derbali
, Lamia Jamel
, Mohamed Bechir Chenguel
, Ali Lamouchi
, Ahmed K Elnagar
, Monia Ben Ltaifa
DOI:10.22495/cgobrv4i1p4
Abstract
The purpose of this paper is to examine if creditors take account of the firm's governance attributes to decide the cost of debt. Using a sample of 486 US firms over the period 1998-2017, we synthesized governance in six factorial axes. We have demonstrated that the quality audit (independence, frequency of meetings, auditor's reputation, there is a charter) and financial expertise (percentage of financial experts and ownership of institutional investors) are informative tools creditors that provide information on the quality and reliability of financial reporting. They affect negatively and significantly the cost of debt. Moreover, creditors appreciate the presence of independent directors on the board and reduce the cost of debt required. Furthermore, the independence of the nomination and compensation committees prove irrelevant attributes of governance perspective because creditors do not reduce their risk of the agency. However, the attributes of the board (the size, the number of meetings, the existence of specialized committees, and meetings) are misunderstood by creditors that will increase the interest rate. In addition, the cost of debt increases with the concentration of managerial ownership and majority shareholders. Similarly, attributes reflecting the managerial entrenchment (duality of CEO tenure) are positively correlated to the cost of debt.
Keywords: Cost of Debt, Creditors' Behavior, Governance Mechanisms, American Firms
Authors' individual contribution: Conceptualization – A.D. and L.J.; Methodology – A.D., A.L., and M.B.C.; Software – A.K.E. and M.B.L.; Validation – A.D., L.J., and A.K.E.; Formal Analysis – M.B.L. and A.L.; Investigation – A.D., M.B.L., and L.J.; Resources – A.D.; Data Curation – A.D. and A.K.E.; Writing – L.J. and A.D.; Supervision – A.D.
Declaration of conflicting interests: The Authors declare that there is no conflict of interest.
JEL Classification: O16, G34, H63
Received: 28.11.2019
Accepted: 29.05.2020
Published online: 10.06.2020
How to cite this paper: Derbali, A., Jamel, L., Chenguel, M. B., Lamouchi, A., Elnagar, A. K., & Ltaifa, M. B. (2020). Governance structure and cost of debt. Corporate Governance and Organizational Behavior Review, 4(1), 41-53. http://doi.org/10.22495/cgobrv4i1p4

The payment can be made with credit/debit card via secure payment system provided by Ukrainian processing center. During the payment, you will probably receive an SMS from your bank with the password to confirm the transaction. The price in Euro is an oriented one. The payment will be charged in UAH according to the exchange rate of your payment card provider. Once the payment is made we will process it ASAP and our representative will contact you to deliver the service/confirm the payment.