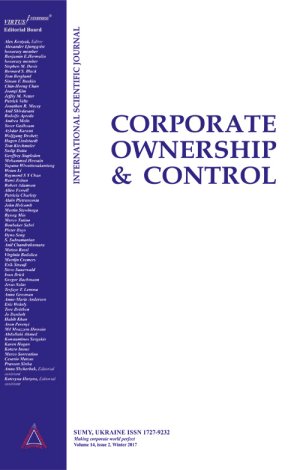 MORAL GOVERNANCE AND STAKEHOLDER MANAGEMENT: ARE POLITICIANS TOO POWERFUL?
Download This Article
Paolo Di Betta, Carlo Amenta
DOI:10.22495/cocv5i4p4
Abstract
We investigate upon the influences on the Board exerted by politicians concerning strategic management and corporate governance, an invasive activity which we characterize as moral governance. We present a list of actions through which politicians and other outside parties who intervene in the political arena show power in influencing corporate policies. We analyze three Italian clinical cases some of which can be considered reluctant forms of privatization. At crossroads between corporate governance and stakeholder management, our model could be used as a guideline and checklist for insiders to interact with politicians, for cross-country comparisons of business environment, and for assessing transparency of companies in developed and developing countries.
Keywords: Corporate Governance, Ownership Control, Political Ties and Connections
How to cite this paper: Di Betta, P., & Amenta, C. (2008). Moral governance and stakeholder management: are politicians too powerful? Corporate Ownership & Control, 5(4), 34-48. http://doi.org/10.22495/cocv5i4p4