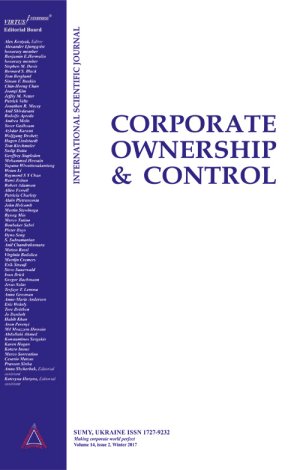 IS THERE A FIRM-SIZE EFFECT IN CEO STOCK OPTION GRANTS?
Download This Article
Bruce Rosser, Jean Canil
DOI:10.22495/cocv6i1p12
Abstract
Schaefer (1998) and Baker and Hall (2004) posit a firm size effect for regular executive compensation but not specifically for executive stock option grants. They propose an inverse relation between pay-performance sensitivity and firm size along with a positive relation between the marginal productivity of executive effort and firm size. The product of pay-performance sensitivity and executive productivity is "incentive strength". They find a weakly positive association between incentive strength and firm size. We substitute Hall and Murphy"s (2002) pay-performance sensitivity metric to detect a firm size effect in CEO stock option grants. After adjusting for small-firm risk aversion and private diversification "clienteles", we document evidence of a residual small-firm effect impacting on incentive strength principally through grant size. Given lower small-firm deltas, grant size appears to have been increased by compensation committees to ensure small-firm CEOs are not under-compensated relative to their large-firm counterparts. We also find that firm complexity influences pay-performance sensitivity as well, but not labor productivity (proxying for CEO productivity). No evidence is found that firm smallness and complexity impact on labor productivity. However, we empirically confirm a negative relation between pay-performance sensitivity and firm smallness and, by implication, firm complexity.
Keywords: Stock Options. CEO, Firm Size
How to cite this paper: Rosser, B., & Canil, J. (2008). Is there a firm-size effect in CEO stock option grants?. Corporate Ownership & Control, 6(1), 115-126. http://dx.doi.org/10.22495/cocv6i1p12