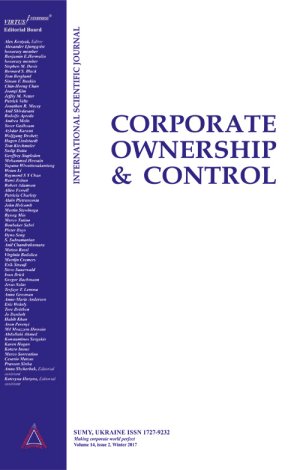 DID IFRS REPORTING BY UK FIRMS REDUCE EARNINGS MANAGEMENT?
Download This Article
Medhat Naguib El Guindy
DOI:10.22495/cocv11i2c5p5
Abstract
This paper investigates the effect of reporting under International Financial Reporting Standards (hereafter IFRS) versus reporting under UK GAAP on earnings management in the UK. Prior studies find mixed evidence regarding the effect of voluntary and mandatory adoption of IFRS on earnings quality. I test whether the effect of reporting under IFRS on earnings management is sufficient to overcome earnings management incentives. Furthermore, I test whether the effect of IFRS reporting is conditional on audit quality surrogated by audit firm size. I build the analysis on measures of discretionary accruals and earnings benchmark tests. I find evidence that reporting under IFRS generally reduces levels of earnings management and furthermore, the mitigating effect of IFRS is stronger for income decreasing than for income increasing earnings management. In addition, I find that audit quality plays a key role in IFRS reporting, with only firms audited by big four auditors having a significant IFRS reporting effect.
Keywords: Earnings Management, Discretionary Accruals, Accounting Standards, IFRS, Audit Quality
How to cite this paper: El Guindy, M. N. (2014). Did IFRS reporting by UK firms reduce earnings management? Corporate Ownership & Control, 11(2-5), 488-510. http://doi.org/10.22495/cocv11i2c5p5