Corporate Governance in Arab Countries: Specifics & Outlooks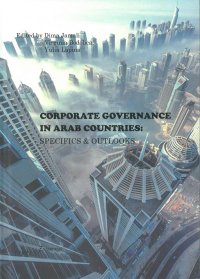 Publishing house Virtus Interpress introduces a book focused on the peculiarities of the national approaches to corporate governance in Arab countries, titled "Corporate Governance in Arab Countries: Specifics & Outlooks".
ISBN: 978-617-7309-01-6
Edited by: Dima Jamali, Virginia Bodolica, Yulia Lapina
Number of pages: 220
Published: 2018
Cover: hardcover
How to cite: Jamali, D., Bodolica, V., & Lapina, Y. (Eds.). (2018). Corporate governance in Arab countries: Specifics & outlooks. Sumy, Ukraine: Virtus Interpress.
Synopsis: Over the past two decades, the theory and practice of corporate governance have been undergoing continuous transformation to become one of the most important issues of our time. Having initially focused on strengthening the relationship between firm investors, its top management team and board of directors, the corporate governance domain currently embraces a much broader perspective to acknowledge complex realities and the multifaceted nature of dynamics surrounding organizational players and their stakeholders.
The book represents an important contribution to the raising debate about corporate governance in seven Arab countries: Saudi Arabia; Libya; Egypt; the UAE; Qatar; Jordan; Tunisia and MENA region. This book is edited by a team of scholars with expertise in the field of corporate governance and emphasis on Arab countries: Prof. Dima Jamali, Prof. Virginia Bodolica, and Dr. Yulia Lapina. A total of 13 co-authors (representing 7 countries) contributed to this book. The book is composed of three parts, unfolding progressively from a general presentation of extant governance infrastructures in the Arab world to a more detailed evaluation of specific governance devices in a given country.
Price of the book: Euro 96 (shipment included).
How to order: You can either pay online with the credit card, using "Order Now" button or contact us by the e-mail order@virtusinterpress.org indicating the book you want to order and the number of copies of the book. We will send you the invoice in reply.
Contents
Foreword Bodolica
Foreword Jamali
Foreword Lapina
List of editors and contributors
A sample Chapter 9
Order Form
The payment can be made with credit/debit card via secure payment system provided by Ukrainian processing center. During the payment, you will probably receive an SMS from your bank with the password to confirm the transaction. The price in Euro is an oriented one. The payment will be charged in UAH according to the exchange rate of your payment card provider. Once the payment is made we will process it ASAP and our representative will contact you to deliver the service/confirm the payment.