Upcoming Book Announcement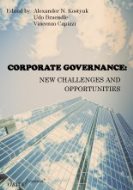 At the beginning of the year, the publishing house "Virtus Interpress" has initiated a new project, a book titled "Corporate Governance: New Challenges and Opportunities".
We are glad to announce that the book is currently on the stage of typesetting and we are happy to present a sample of the upcoming publication.To preview the book, please visit this page. For ordering – click here or just pay online with the card here.
"Corporate Governance: New Challenges and Opportunities" includes views of 19 contributing teams on the main issues of the corporate governance and outlines of its fundamental aspects in different countries:
Anna Tilba, the UK
William L. Megginson and Romora E. Sitorus, the USA
Raef Gouiaa, Canada
Mark Wickham and Kim Backhouse, Australia
Mark Rix and Anil Chandrakumara, Australia
Helen Roberts and Michelle Li, New Zealand
Fadi Alkarran, Ireland
Emilie Bonhoure and Laurent Germain, France
Niels Hermes and Kees van Veen, the Netherlands
Doriana Cucinelli and Danilo V. Mascia, Italy
Elena Merino and Montserrat Manzaneque, Spain
Inês Lisboa, Maria Clara Guilherme and Nuno Teixeira, Portugal
Seppo Ikäheimo and Mirel Leino, Finland
Fumiko Takeda, Japan
Leszek Bohdanowicz, Poland
Kontogeorga N. Georgia, Georgios L. Thanasas and Smaraidos Sp. Vassilis, Greece
Dilvin Taşkın and Ece Erdener Acar, Turkey
Ehab K. A. Mohamed and Mohamed A. K. Basuony, Egypt
Sandra Gaitan and Jimmy Saravia, Colombia
The book will be published in November, 2017. It will be edited by Professor Vincenzo Capizzi, Professor Udo Braendle and Professor Alex Kostyuk.