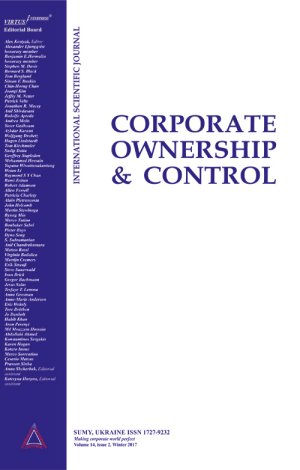 TWO CONSECUTIVE HOT MARKET PERIODS: IS THE IPO MARKET IN SOUTH AFRICA CHANGING OVER TIME?
Download This Article
A van A Smit
DOI:10.22495/cocv13i1c5p7
Abstract
Various authors, such as Gao, Ritter and Zhu (2012), Weild (2011) and Fama and French (2004) reported increasing underpricing and a dramatic decline in both the profitability and the survival rates of Initial Public Offerings (IPOs) over the last few decades internationally. This study seeks to determine whether the IPO landscape in South Africa has shown similar trends focusing on two consecutive hot market periods (1997-99 and 2006-07). The findings are, contrary to expectations, that the level of underpricing has actually improved significantly over time with very little change in the size of the listings, the offer price or the years in existence prior to listing. There is, however, a significant change in the sectors these IPOs were listed in with relatively more listings in the Alternative Board (AltX), but less emphasis in the Consumer and Technology Sectors. Although not significant, it even seems as if the success and failure rate of IPOs in South Africa has improved marginally, providing some explanation for the improvement in the level of underpricing over time. A note of caution is also mentioned regarding the use of mean MAARs as a measure of underpricing, given the typically skewness of IPO data.
Keywords: IPOs, Hot Markets, Market-Adjusted Abnormal Return (MAAR)
How to cite this paper: Van A. Smit, A. (2015). Two consecutive hot market periods: Is the IPO market in South Africa changing over time? Corporate Ownership & Control, 13(1-5), 596-604. http://dx.doi.org/10.22495/cocv13i1c5p7