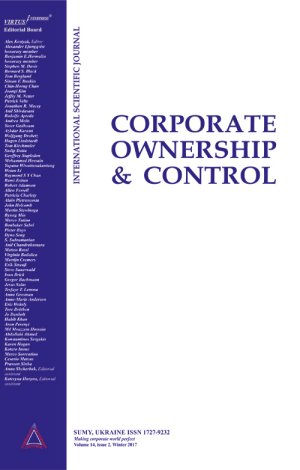 THE ETHICAL CONUNDRUM OF ENTREPRENEURS: IS THERE A DIFFERENCE BETWEEN PERSONAL AND BUSINESS VALUES?
Download This Article
Johannes A. Wiid, Michael C. Cant, Nadine van Rooyen
DOI:10.22495/cocv11i1c3art7
Abstract
It is a known fact that the role of small businesses in the world economy is becoming more and more important – and especially now that the worldwide recession has been going on for more than five years. During this period many large corporations have been found striving for ethical behaviour and moral values, resulting in a backlash from various stakeholders. Unfortunately, the example set by large corporations and their perceptions, or even justifications, of correct or acceptable "twisted" ethical behaviour always rubs off on small businesses. The main purpose of this study was to determine whether moral behaviour will have an effect on the concern for ethical misconduct among South African entrepreneurs. Ethics and morality are two terms that are very closely related and often used interchangeably in the South African context. While ethics refers to the rules and conduct that are prescribed by society, morality is the internally accepted standards of individual behaviour in a society. Therefore, business ethics are the principles that are prescribed by businesses and accepted within a business environment. The study shown that various constructs, regarding behavioural aspects, can be grouped to indicate the theme of moral behaviour. The study convincingly showed that there does, in fact, exist a medium to strong relationship correlation between concern for ethical misconduct and moral behaviour among South African entrepreneurs. The results also indicate that gender, age and race do not have an effect on South African entrepreneurs' view of concern for ethical misconduct or moral behaviour.
Keywords: Small Business, Ethics, Moral Behaviour, Personal Values
How to cite this paper: Wiid, J. A., Cant, M. C., & van Rooyen, N. (2013). The ethical conundrum of entrepreneurs: is there a difference between personal and business values? Corporate Ownership & Control, 11(1-3), 360-371. http://dx.doi.org/10.22495/cocv11i1c3art7