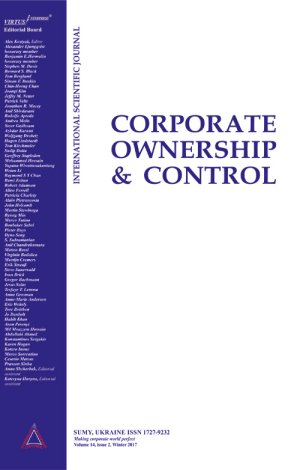 THE DYNAMICS OF CEO COMPENSATION AND FIRM PERFORMANCE: ARE EXECUTIVE COMPENSATIONS EXCESSIVE?
Download This Article
Ying Huang, Carl R. Chen
DOI:10.22495/cocv5i2c1p8
Abstract
We evaluate the dynamics of executive compensation and shareholder returns. In observing the level of compensation, we notice that CEOs' salaries, bonuses, annual stock options, and accumulation of stock options all showed strong or explosive growth. We postulate that the marginal productivity of CEO compensation diminishes over the sample period due to this substantial growth. Our empirical results support this hypothesis. Using both single equation and simultaneous equation models, we find the marginal effect of compensation on total shareholder returns declines substantially. The results support the concerns that the public has expressed about the levels of CEO compensation.
Keywords: Executive Compensation, CEO, Shareholder Returns
How to cite this paper: Huang, Y., & Chen, C. R. (2008). The dynamics of CEO compensation and firm performance: are executive compensations excessive? Corporate Ownership & Control, 5(2-1), 237-246. http://doi.org/10.22495/cocv5i2c1p8