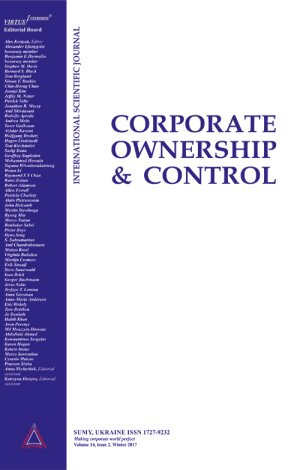 OWNERSHIP STRUCTURE, FIRM-SPECIFIC FACTORS AND PAYOUT POLICY: EVIDENCE FROM THE GCC REGION
Abstract
This paper draws on the author's previously published works. The purpose of this study is to examine the effect of ownership structure and firm-specific factors on the payout policy of firms listed on the largest stock market in the Gulf Cooperation Council (GCC) region namely the Saudi Stock Exchange (SSE). The paper uses a balanced panel dataset of 69 nonfinancial companies (552 firm-year observations) and employs the random effects Tobit specification. The results show that government, institutional and family ownership positively influence dividend payments in Saudi Arabia. Furthermore, dividend payments are positively associated with firm-specific factors such as profitability, firm size and firm maturity but negatively related to business risk and leverage. The findings are consistent with the agency costs and reputation hypotheses. The paper provides some practical implications for the Capital Market Authority of Saudi Arabia (CMA), corporations and investors.
Keywords: Ownership Structure, Payout Policy, Tobit Specification, GCC Region, Saudi Arabia
Received: 05.11.2017
Accepted: 14.12.2017
How to cite this paper: Al-Malkawi, H. A. N. (2017). Ownership structure, firm-specific factors and payout policy: Evidence from the GCC region. Corporate Ownership & Control, 15(1-2), 476-486.
http://doi.org/10.22495/cocv15i1c2p16

The payment can be made with credit/debit card via secure payment system provided by Ukrainian processing center. During the payment, you will probably receive an SMS from your bank with the password to confirm the transaction. The price in Euro is an oriented one. The payment will be charged in UAH according to the exchange rate of your payment card provider. Once the payment is made we will process it ASAP and our representative will contact you to deliver the service/confirm the payment.