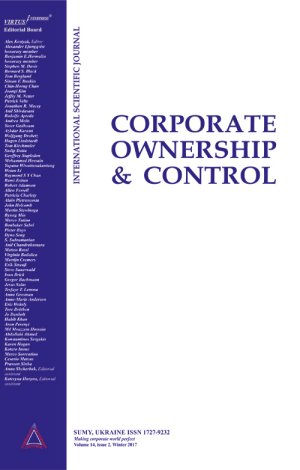 ORGANIZATIONAL CITIZENSHIP BEHAVIOUR: DO GENERATIONAL AND BIOGRAPHICAL DIFFERENCES EXIST?
Download This Article
Sanjana Brijball Parumasur, Patsy Govender
DOI:10.22495/cocv14i1c4art8
Abstract
This quantitative, cross-sectional study aims to assess whether generational and biographical differences result in varying employee views on organizational citizenship behaviour (OCB) and its sub-dimensions (altruism, conscientiousness, sportsmanship, courtesy, civic virtue) respectively. The population comprised of 76 staff members in a meat supply outlet that focuses on quality and professionalism from which a sample of 60 was drawn using a cluster sampling technique, thereby securing a 79% response rate. Data was collected using an established questionnaire (Organ, 1988), whose psychometric properties (validity and reliability) were statistically determined using Factor Analysis and Cronbach's Coefficient Alpha respectively. The results of the study reflect that although significant differences were not noted across the generations regarding OCB and its sub-dimensions, differences were observed that provide instructional insights. Significant biographical differences were only noted in terms of education and civic virtue. Based on the results of the study, recommendations are made that contribute to adopting universal strategies to enhance prosocial behaviours and values amongst all employees thereby enhancing the potential for organizational citizenship behaviours.
Keywords: Organizational Citizenship Behaviour, Altruism, Conscientiousness, Sportsmanship, Courtesy, Civic Virtue
How to cite this paper: Parumasur, S. B., & Govender, P. (2016). Organizational citizenship behaviour: Do generational and biographical differences exist? Corporate Ownership & Control, 14(1-4), 620-629. http://doi.org/10.22495/cocv14i1c4art8