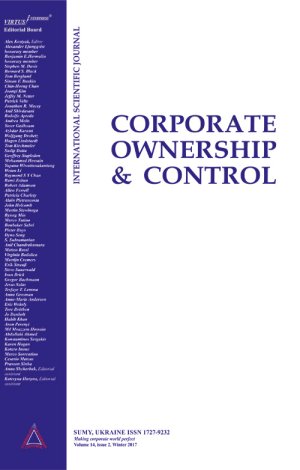 MATERIALITY AS A SUSTAINABILITY ACCOUNTING CONCEPT: THREE DEFINITIONAL STREAMS AND CRITIQUES
Yining Zhou
DOI:10.22495/cocv15i1art8
Abstract
This paper contributes to accountancy literature with a systematic review of how materiality is defined as a sustainability accounting concept. It patterns prior definitional works into three streams (the simple synonym, the shareholder-based, and the stakeholder-based), and then critiques each of them. Compared to the other two streams, the stakeholder-based stream, which has been adopted as the mainstream in sustainability accounting community, is justified as to offer a more holistic and long-term scope on judging materiality of sustainability issues. But the current state of this stakeholder-based stream is problematic in failing to resolve the complexity of the stakeholder environment where business organizations operate. Accordingly, this paper proposes three critical questions: (1) all stakeholders or only primary stakeholders should be taken into account of materiality assessment; (2) how to address the diversity of stakeholder interests in the framework of materiality; and (3) how to apply the materiality concept in informal reporting practices. These critical questions highlight potentials of advancing the sustainability accounting conceptualization of materiality in the track of the stakeholder-based stream.
Keywords: Materiality, Sustainability Accounting, Sustainability Reporting, Stakeholder, Shareholder
Received: 05.11.2016
Accepted: 14.08.2017
How to cite this paper: Zhou, Y. (2017). Materiality as a sustainability accounting concept: Three definitional streams and critiques. Corporate Ownership & Control, 15(1), 83-89. http://doi.org/10.22495/cocv15i1art8

The payment can be made with credit/debit card via secure payment system provided by Ukrainian processing center. During the payment, you will probably receive an SMS from your bank with the password to confirm the transaction. The price in Euro is an oriented one. The payment will be charged in UAH according to the exchange rate of your payment card provider. Once the payment is made we will process it ASAP and our representative will contact you to deliver the service/confirm the payment.