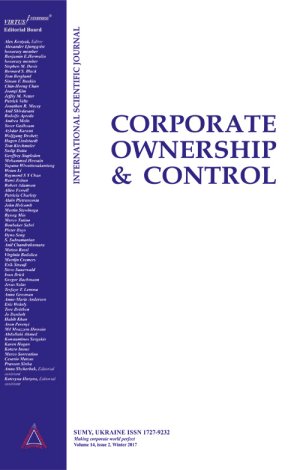 INVESTMENT AND PERFORMANCE OF FIRMS: CORRELATION OR CAUSALITY?
Download This Article
Abstract
This paper provides an empirical analysis of the two-way causal relationship between investment and performance indicators at the firm level. The performance variables include sales, value added, profit, cash flow, capital structure and employment. The investment variables are research and development and physical capital. A multivariate vector autoregressive approach is applied to a panel of Swedish firms observed between 1992 and 2000. Results show evidence of some two-way causal relationships, which are mainly transitory in character. Significant heterogeneity is observed in the firms' investment and performance behavior by their size.
Keywords: R&D Investment, Productivity Growth, Financial Constraints, Panel Data
How to cite this paper: Almas Heshmati, A., & Lööf, H. (2008). Investment and performance of firms: Correlation or causality? Corporate Ownership & Control, 6(2-2), 268-282. http://doi.org/10.22495/cocv6i2c2p2