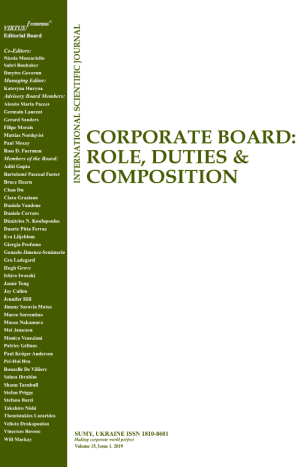 HOW COULD BOARD DIVERSITY INFLUENCE CORPORATE DISCLOSURE?
Download This Article
Nermeen F. Shehata
DOI:10.22495/cbv9i3art4
Abstract
This paper aims to provide a theoretical analysis on the relationship between diversity and corporate disclosure. A literature review has been conducted to assess the aforementioned relationship. Through the literature, agency theory and stakeholder theory support board diversity. This paper explains how Hofsetde-Gray culture theory could be used to explain the relationship between nationality as one of the diversity characteristics, and corporate disclosure. Presence of a diverse board is expected to positively influence corporate disclosure. On one hand, this paper provides future research an opportunity to empirically assess this relationship. On the other hand, the positive influence that board diversity has on corporate disclosure provides an opportunity to companies to diversify their boards according to different nationalities and gender type.
Keywords: Disclosure, Board diversity, Agency theory, Stakeholder theory, Hofsetde, Gray, Culture
How to cite this paper: Shehata, N. F. (2013). How could board diversity influence corporate disclosure? Corporate Board: role, duties and composition, 9(3), 42-49. http://doi.org/10.22495/cbv9i3art4