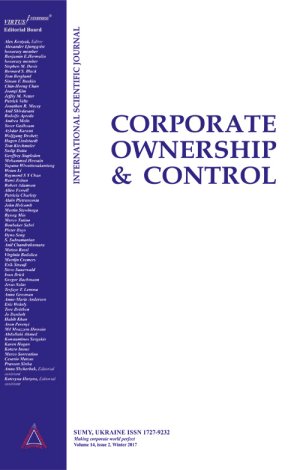 DOES CEO MAKE A BETTER ACQUISITION DECISION AFTER SOX?
Download This Article
Minhua Yang
DOI:10.22495/cocv11i2c3p7
Abstract
We examine whether the changes in corporate governance lead to a better acquisition decision. SOX greatly improve the corporate governance which should reduce the non-value-maximizing behavior of acquiring managers. We find a significant increase in acquirer returns after the passage of SOX. We also find that CEOs with strong managerial power are more likely to receive more restricted stock in their compensation package after the 2002 reforms. Finally, I find a significant positive relation between the restricted stock compensation of acquiring firm CEOs and abnormal stock returns after 2002. This provides empirical support on the effectiveness of the shift away from options towards restricted stock in executive compensation packages. Restricted stock is associated with better merger decisions.
Keywords: Ethics, Exposure to Unethical Behaviour, Personal Attitudes, Policy and Practice, Accounting Firms, Australia
How to cite this paper: Yang, M. (2014). Does CEO make a better acquisition decision after SOX? Corporate Ownership & Control, 11(2-3), 389-403. http://dx.doi.org/10.22495/cocv11i2c3p7