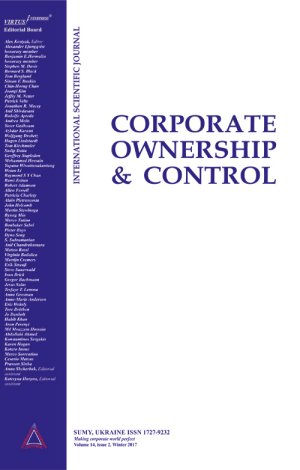 DO MERGERS AND ACQUISITIONS IN CHINA CREATE VALUE TO ACQUIRING FIRMS?
Download This Article
Geeta Duppati, Sazali Abidin, Jiani Hu
DOI:10.22495/cocv12i4p9
Abstract
This paper investigates both short-term and long-term stock market reactions to the announcement of domestic and cross-border Mergers and Acquisitions (M&As) by Chinese acquiring companies. For short-term performance, this study uses market model methods to calculate daily abnormal return and measure how M&A deals announcement impact on stock returns. For the long-term performance, this study uses market model, capital asset pricing model and Fama-French three factor model to calculate monthly abnormal return and measure whether M&A deals create value to shareholders. This paper also examines differences in operating performance between pre-acquisition and post-acquisition, and finally investigates whether cash flow from operations, Tobin's Q and profit margin are significantly changed by M&A deals.
Keywords: Merger, Acquisition, Abnormal Return, Performance, Three Factors Model
How to cite this paper: Duppati, G., Abidin, S., Hu, J. (2015). Do mergers and acquisitions in china create value to acquiring firms?. Corporate Ownership & Control, 12(4), 117-140. http://doi.org/10.22495/cocv12i4p9