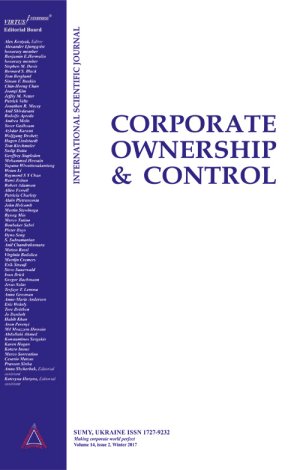 CORPORATE SOCIAL RESPONSIBILITY REPORTING: A BUSINESS STRATEGY BY AUSTRALIAN BANKS?
Download This Article
Dianne Thomson, Ameeta Jain
DOI:10.22495/cocv7i4c1p5
Abstract
The growth of voluntary corporate social responsibility (CSR) reporting reflects society"s expectations for business to set higher ethical standards and to undertake business in a way that meets the profit imperative (the bottom line). Additionally, the community expects socially and environmentally responsible behaviour practices; the so-called triple bottom line approach. The paper briefly reviews the development of corporate social responsibility reporting from the perspective of two large Australian banks and attempts to understand their motivation for voluntary disclosure. Stakeholder theory and game theory provide a means to analyse why banks undertake CSR reporting. The paper compares Westpac and National Australia Bank"s CSR reporting over the period 2004-2005 utilising external rating agencies and CSR reports to determine the extent of disclosure in relation to employees, environment, community and customers. The paper concludes with a discussion of the pros and cons of CSR, the role of regulation and recommendations for future policy direction.
Keywords: Banks, Government Policy and Regulation, Corporate Governance
How to cite this paper: Thomson, D., Jain, A. (2010). Corporate social responsibility reporting: a business strategy by Australian banks? Corporate Ownership & Control, 7(4-1), 213-228. http://doi.org/10.22495/cocv7i4c1p5