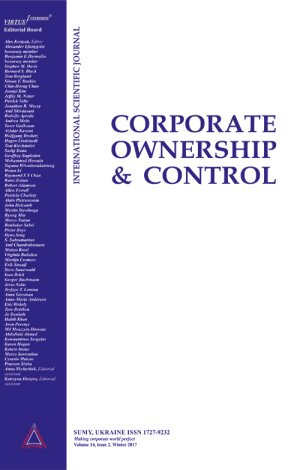 CORPORATE CONTROL: THE ROOT CAUSES OF REWORKS IN THE CONSTRUCTION OF PROJECTS
Abstract
The root causes of reworks generally continue to be overlooked, despite the fact that reworks regularly cause corporate budgets to be exceeded by more than 12.4 %. Reworks is a recurring problem which companies are gradually losing control of and as a result contributes to time and cost overruns, thereby bringing adverse effects on project performance. To improve corporate performance and control it is, therefore, necessary to identify the root causes of reworks in construction projects. This article explores the root causes of reworks on construction projects with reference to South Africa. The desktop methodological approach was adopted based on scholarly articles to ascertain root causes of reworks. Following a conceptual analysis on corporates, thirty-five causes of reworks were, identified and categorized into five main categories namely client-related, design-related, site management-related, subcontractor-related and transporter-related. Client-related category had the most factors causing reworks. From this category, wrong communication was the factor identified to cause most of the reworks. Finding suggests the need for further empirical study. This finding contributes to the body of knowledge by identifying the root causes of reworks. This can eventually improve corporate control and performance by providing practitioners with an in-depth understanding of reworks.
Keywords: Projects, Causes Reworks, Corporate Control, Construction
Received: 29.05.2017
Accepted: 21.08.2017
How to cite this paper: Maseko, C. M. (2017). Corporate control: The root causes of reworks in the construction of projects. Corporate Ownership & Control, 15(1-1), 213-223. http://doi.org/10.22495/cocv15i1c1p5

The payment can be made with credit/debit card via secure payment system provided by Ukrainian processing center. During the payment, you will probably receive an SMS from your bank with the password to confirm the transaction. The price in Euro is an oriented one. The payment will be charged in UAH according to the exchange rate of your payment card provider. Once the payment is made we will process it ASAP and our representative will contact you to deliver the service/confirm the payment.