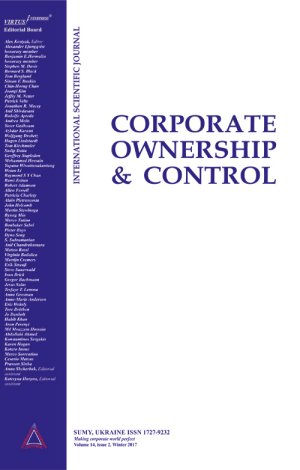 CAN BOARD MECHANISM AFFECT THE FIRM VALUE IN PAKISTAN?
Download This Article
Mian Sajid Nazir, Shafaqat Ali, Abdul Haque
DOI:10.22495/cocv6i3c2p5
Abstract
Corporate governance is, undoubtedly, extremely essential for the performance of the organizations. The structure of corporate ownership has significant impact on the external as well as internal performance factors of firms. The relationship between corporate governance indicators and firm
performance has been extensively investigated; however, a little work has been done on how the structure of board can add value to the firm. This paper sheds light on the relationship of some aspects of board structure like board size, board composition, and CEO duality with the performance variables Tobin's Q and Return on Assets (ROA) by using a sample of 53 firms of cement and sugar sectors of Pakistan for a period of 2005-2007. The results indicate that the firms perform better with moderate board size and the performance is adversely affected if CEO also acts as chairperson of board of directors whereas the external directors can play a positive role for firm performance in Pakistan.
Keywords: Board size, Board composition, CEO duality, Firm performance, Tobin's Q
How to cite this paper: Nazir, M. S., Ali, S., & Haque, A. (2009). Can board mechanism affect the firm value in Pakistan?. Corporate Ownership & Control, 6(3-2), 308-317. http://doi.org/10.22495/cocv6i3c2p5