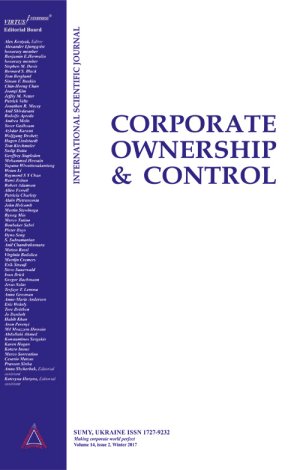 BOARD OF DIRECTOR'S CHARACTERISTICS AND BANK PERFORMANCE: EVIDENCE FROM GCC REGION
Download This Article
Ehab R. Elbahar
DOI:10.22495/cocv17i1art2

This work is licensed under a Creative Commons Attribution 4.0 International License.
Abstract
The main purpose of the current study is to examine the association between Corporate Governance's (GC) variables represented by board characteristics and Bank performance measured by ROE and ROA in GCC banking sector. For the purposes of this study, the sample of 68 banks in gulf countries during the period from 2013 to 2017 have been selected and divided the data to Islamic banks and conventional banks (16 Islamic banks, 52 Non-Islamic). Furthermore this study uses the nonparametric regression OLS and Quantile analysis. The current study suggest that the existence of female directors on the board of director in last years is significantly associated with better performance, we concludes that females in GCC banking sector in latest years reached a high level of maturity in understanding banking industry. Furthermore, this study suggests that the audit committee associated positively and significantly with bank performance, it means that the audit committee in latest years plays important role in enhancing the performance. In addition to the above, the political member on the board and risk committee does not affect the performance significantly. Both of board size and Sharia committee are associated positively and significantly with performance.
Keywords: Corporate Governance, Board of Directors Characteristics, Gender Diversity, Audit Committee, Islamic and Conventional Banks, GCC Countries, Bank Performance
Authors' individual contribution: The author is responsible for all the contributions to the paper according to CRediT (Contributor Roles Taxonomy) standards.
JEL Classification: M14, M40, M41, M42
Received: 24.06.2019
Accepted: 03.09.2019
Published online: 04.09.2019
How to cite this paper: Elbahar, E. R. (2019). Board of director's characteristics and bank performance: Evidence from GCC region. Corporate Ownership & Control, 17(1), 14-23. http://doi.org/10.22495/cocv17i1art2