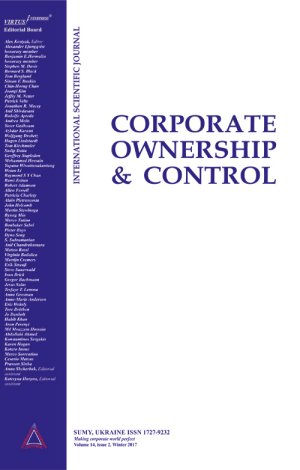 ANY DIFFERENCES IN THE DIVIDEND POLICY BETWEEN NATIONAL AND REGIONAL BANKS?
Download This Article
Seok Weon Lee
DOI:10.22495/cocv9i1c3art4
Abstract
This study compares the dividend policy of Korean national and regional banks by identifying the factors that may determine the payout ratio of the banks using the sample over 1994-2008 periods. Based on the fixed effects regression estimation, this study finds that the payout ratio of national banks appears to be more significantly and closely related to the variables such as debt ratio (negative relationship), future growth opportunity (negative relationship), profitability (positive relationship), and outside ownership (positive relationship) than regional banks. These results are appealing intuitively considering that generally national banks are larger banks and more actively traded in capital market, and therefore, national banks would be subject to greater indirect market discipline and pressure in dividend market. Thus, national banks may receive more pressure than regional banks to send the correct signal to the market through the dividend policy. Therefore the pattern of dividend policy for national banks would be more significant and predictable compared to regional banks.
Keywords: Dividend Policy, Payout Ratio, National Banks, Regional Banks, Fixed Effects Model
How to cite this paper: Lee, S. W. (2011). Any differences in the dividend policy between national and regional banks? Corporate Ownership & Control, 9(1-3), 405-411. http://dx.doi.org/10.22495/cocv9i1c3art4